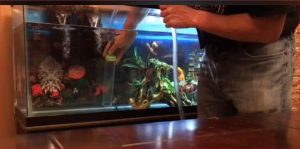 One of the most common thing called I get called for his to change the water and people's aquariums.
It is recommended to change the water in the aquarium weekly.  We changed 10-20% of the water and not be entire amount.  The purpose of this, is to remove the accumulation of toxic materials including ammonia, heavy metals, detritus, organic waste, etc.
When there are major problems within the aquarium we sometimes do weekly changes.  However, most of my clients have me come in once a month to do water changes.
At best aquarium NYC we offer monthly service subscription plans Customized to each individual customers system requirements.  We charge one flat price per month, that covers all of visits that I make to your home or office to do maintenance on your aquarium.  And, we off of the lowest price in New York City guaranteed.
If you own an aquarium you should be doing water changes regularly. If you don't want to do it yourself, call us today for a free consultation and let us do the work for you. 646-205-3021